Committee to Save St. Brigid Church .
P.O. Box 641318 . San Francisco . California 94164-1318 . Phone: 415-364-1511 . Email: stbrigidchurch_sf@yahoo.com .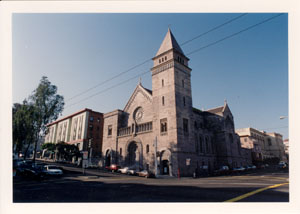 St. Brigid Church at Van Ness & Broadway,
serving San Francisco since 1863
St. Brigid's survived the 1906 earthquake, the great depression, two world wars – and an attempt by San Francisco's Catholic archdiocese to demolish it.
The Committee to Save St. Brigid Church was successful in landmarking the exterior of the building, including the beautiful stained glass windows imported from Ireland. We are now working to landmark the interior.
The furnishings and artwork inside St. Brigid's are veritable treasures: exquisite turn-of-the century angelic statuary by San Francisco artist John McQuarrie (MacQuarrie); marble Holy Water Fonts in memory of California pioneer Alice Phelan Sullivan; ornately carved pews and paneling; and the Ruffatti pipe organ, marble altars, sculptures, and Stations of the Cross, all custom made and imported from Italy.
---

St. Brigid Church is a cultural and architectural
landmark in the Marina, Pacific Heights
and Russian Hill neighborhoods.

---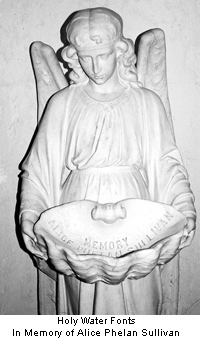 St. Brigid's was built by Irish immigrants, the first group to settle the surrounding area. It was intended from its beginning to be one of the finest churches in the country and no expense was ever spared. St. Brigid's became a source of pride not only for the Irish community but for all of Catholic San Francisco. San Francisco's beloved Mayor George Moscone attended the adjoining parochial school (still in operation), and from here his funeral Mass was held. Generations of San Franciscans have called St. Brigid Church their spiritual home and have watched the important milestones of their lives play out within its walls.
This excellent example of Romanesque architecture has stood at the corner of Van Ness and Broadway for over 100 years. It withstood the 1906 Earthquake and Fire and contributed to the city's recovery according to the legends and stories that filtered down through parish families.
St. Brigid's was determined eligible for the National Register of Historic Places in October 1995, is on the California Register of Historic Resources, and is widely listed among San Francisco's most historically significant buildings.
In 2006, the exterior of St. Brigid Church including the Harry Clarke stained glass windows and the Seamus Murphy statues of St. Brigid surrounded by the twelve apostles, became San Francisco Landmark #252. At that time the City's landmark ordinance did not explicitly allow for interior landmarking. But soon after, Supervisor Jake McGoldrick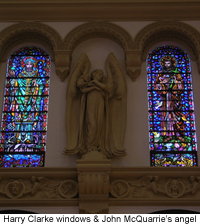 introduced legislation to allow the landmarking of publicly accessible interiors in privately owned buildings.
On January 6, 2009, Supervisor Aaron Peskin sponsored a resolution initiating the interior landmarking process for St. Brigid. An interior landmark application is now being prepared and will soon be heard by the Historic Planning Commission of San Francisco. You can help us achieve St. Brigid interior landmarking by registering your support. Please email us and let us know. We will keep you posted of upcoming hearings and how you can help. Thank you very much!
***