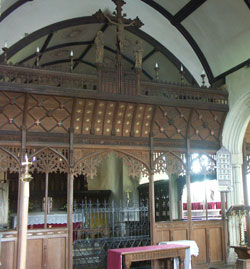 Catholic Online: Saint Breaca, from whom Breage in Cornwall was named, was born in East Meath, Ireland and schooled at the Brigidine convent nearby.
Becoming a disciple of St. Brigit, she was also called Breque, Branca, and Branka. She travelled from Ireland to Cornwall around 460 C. E.. There she and her companions made a home for themselves on the bank of the River Hoyle.
Death: 5th or 6th century
There is a wee problem here. If Breaca studied with Brigit and left in 460, Brigit herself was about four years old at the time. Though we know she was quite precocious, I think this is pushing it. It 's too bad the dates are all so hazy and estimated. It would be nice to know for sure that a disciple of Brigit's had gone on to the big isle to build a community. This would lend some support to the idea that Brigit herself may have done such travelling, too.
"Breaca was patron of this church by c.1170. According to c.1540 extracts from a Life written in the 14th or 15th centuries, Breaca was born in the regions of Leinster and Ulster. Her first local settlement and church here was at Chynoweth, near Trew, but the present church where she was reputedly buried stands on a different site."
"The present church was probably built in the early 12th century. It was considerably enlarged with north and south aisles and chapels and transepts from the mid 15th to the mid 16th centuries. This church as viewed from the exterior is much as it was over 500 years ago. It is dedicated to St Breaca an Irish missionary who is thought to have first come to Cornwall in 500 AD to bring Christianity to the area."
All is now clear. You should pop over to those websites for some lovely views.