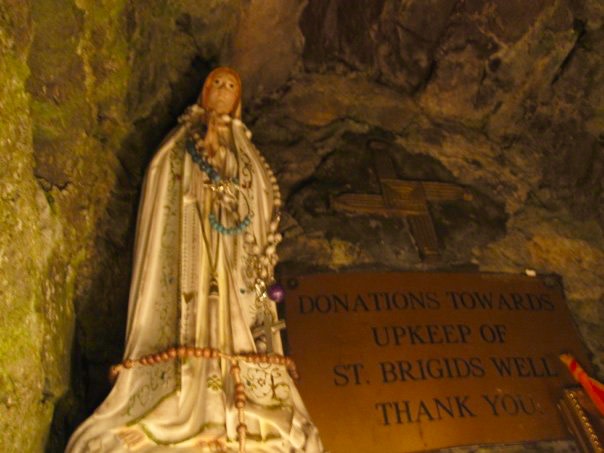 Back in 2006, I was completely inspired by the story of Brigid, who is a pre-Christian goddess and saint, and a remarkable figure important to Irish culture and Celtic heritage. I was going through a time in my life when it seemed that Brigid revealed herself to me through a very interesting series of synchronicities. I was so taken by her that I read as much as I could about her, and ended up going to Ireland in 2008 for my own pilgrimage. I was still enraptured by her story long after I returned to the US. Brigid and the beautiful emerald Isle of Ireland was calling to me, so much so that I took a year-long break from teaching music to study ethnomusicology at the Irish World Academy of Music and Dance at the University of Limerick in Ireland. My masters thesis was entitled: The Feminine Face of God: Spiritual Vocal Music Dedicated to the Pre-Christian Celtic Goddess and Irish Saint, which discussed the phenomenon since the early 1990s, of songs being written dedicated to Brigid. I was able to go to her week-long festival around her feast day on February 1st 2010 called the Féile Bríde, to participate and sing songs in the candlelit ritual on Brigid's Eve and attend all of the events dedicated to her that week, including lectures, concerts, and a peace and justice conference. Since graduating with my masters degree, I have been giving classes to a variety of different types of groups, such as adults, fellow faculty members, and students, about who Brigid is and the songs written about her. I continue to do academic research and have submitted proposals to speak at conferences.
I am running this indiegogo campaign, starting on All Souls' Day, November 1, 2016 and ending on Winter Solstice, December 21, 2016, because I intend to raise funds for a research trip to Ireland for the 2017 Féile Bríde festival in Kildare, Ireland.
By going to this festival, it will help me to continue to do research about songwriters and the songs they write about Brigid. In addition, this trip will help me to continue to share the beautiful story of Brigid as pre-Christian Goddess and Saint that has already touched the lives, captured the imagination of so many people, and is so important to Irish and Celtic culture and heritage.
How will my trip benefit others?
I will provide information through articles I publish to my own research blog that can be accessible by all people with internet access, as well as in future academic journal articles.
The information gained will be used in the classes and professional lectures that I give about Brigid.
This trip will help inspire me to compose my own songs dedicated to Brigid in a songbook that will be due out by February 1st, 2018! I want to provide others with songs dedicated to Brigid to provide music for individuals and groups to use in their own spiritual practices.
​Some proceeds from this campaign will be given directly to the Brigidine order of sisters in Kildare to continue to support the hermitage that they just built and finished, as well as their great work of hosting pilgrimages, events, and promoting peace, justice, generosity, and compassion, as well as Irish and Celtic heritage.
I thank you so much for your help in this project! It is my dear intention that this project will inspire a new connection for both you and I! I am excited to announce that there are several donation levels and rewards that are currently offered that will provide something of value to you, such as classes, academic lectures, and other things! Check back often to see new rewards offered. If you are interested in a class, they can be arranged for February or another month that works for both of our schedules.
Click here to get to Amy's fundraising page.