Ann Riordan, chairperson of Science Foundation Ireland was MC for the occasion. Eimear Quinn cut the tape and Bishop Denis Nulty, Kildare & Leighlin, and Rev. John Marsden, Dean of St. Brigid's Cathedral, ble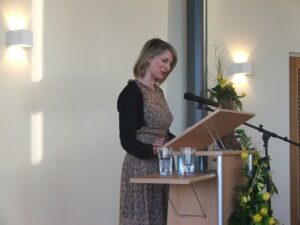 ssed the Centre. The tape cutting ceremony was followed by a musical celebration which included music, song and dance as guests were entertained by Eimear, Luka Bloom and local musicians and dancers.
Mayor Fiona O' Loughlin addressed the assembled guests and referred to the rich legacy of St. Brigid and the heritage of Kildare town an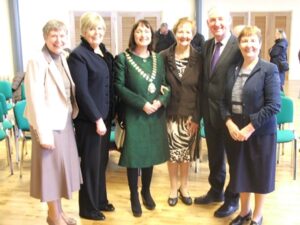 d went on to say how the Solas Bhride Centre "will undoubtedly help us to remember that heritage, reflecting our place in society and in the world, while considering our future path; both personally and as a community… This new facility will develop not only into a national location for spirituality and reflection, but also internationally giving our local and wider community and visitors to the area a unique experience, particularly in the areas of education, ecology, spirituality and healing".
Tributes were paid to the Design team which included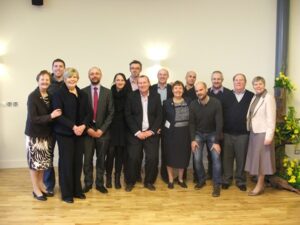 Brian O'Brien of Solearth Ecological Architecture who designed the unique ecologically sustainable Spirituality Centre, in the shape of a St. Brigid's cross, with the centre of the cross featuring an internal garden and circular and semi-circular rooms, Manley Construction Ltd. who built the Centre and have already received two national awards for the building. A special acknowledgement to the Quantity Surveyor, George Fitzpatrick, Gilltown, Kilcullen, for delivering the project within budget.
Rita Minehan csb, Chairperson of the Board of Directors, expressed her gratitude to the Design Team, to the Brigidine Sisters for their huge financial contribution which ultimately made the Centre possible, Kildare Leader Partnership for their generous grant, Kildare County Council, Public Representatives and Kildare Failte for their support with planning and many other issues, and to all who made donations to the Centre, supported the fund raising campaign and organised fund raising events.
"It is truly a magnificent Centre" said Sr. Rita "and it is our hope that all who come to the new Solas Bhride will be facilitated in their search for a meaningful spirituality through the unfolding of the legacy of St. Brigid of Kildare and its relevance for the 21st century.
"